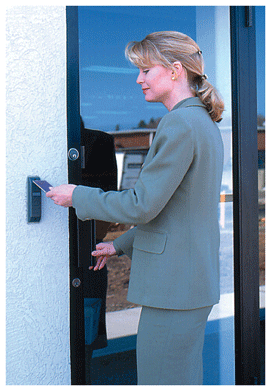 Access Control Systems from SafeLink Security
Keyless entry has proven to be a highly effective means for easily handling employee safety and turnover as well as protecting a company's infrastructure from internal and external losses. In addition, a well designed, installed and serviced Access Control provides an incredible money savings by eliminating re-keying with each employee departure. Take back the control with a SafeLink Security Access Control system.

With a SafeLink Security Access Control System You Can:
Rest assured your SafeLink Security control system is being serviced and maintained with over 30 years of experience
Network entire system in multiple locations
Add or delete employees quickly and easily from the system
Control employee access into sensitive areas
Restrict walk-in traffic and decrease security threats
Reduce the security hassle involved with employee turnover
Program time and areas for authorized employee access
Remotely Manage Your System from anywhere in the world

Secure Access with SafeLink Security
SafeLink Security offers a full product line of keyless access control systems and can design and install the right solution for your business, whether you require keyless access control for a single door or a multi-site campus.

Available Options:
Activity reports for employee access verification

Alarm deactivation with authorized entrance

Automatic door unlock during fire alarms

Maintain employee profiles in database

Multiple door access capability

Schedule control

Today's SafeLink Security Access Control system is more then the tool that unlocks your door; it's a full business management tool.